What does cosmetic dentistry include?
Cosmetic dentistry includes damage restorations with aesthetic direct fillings on anterior and posterior teeth, indirect restorations with porcelain or acrylic inserts / inlays, tooth reconstruction with or without endodontic shaft.
What kind of cosmetic restorations can be performed at the Dental Art dental unit?
Whitening
Faces (technical commitments)
Dental strass placement
All restorations are made according to the philosophy of minimally invasive dentistry and aesthetics.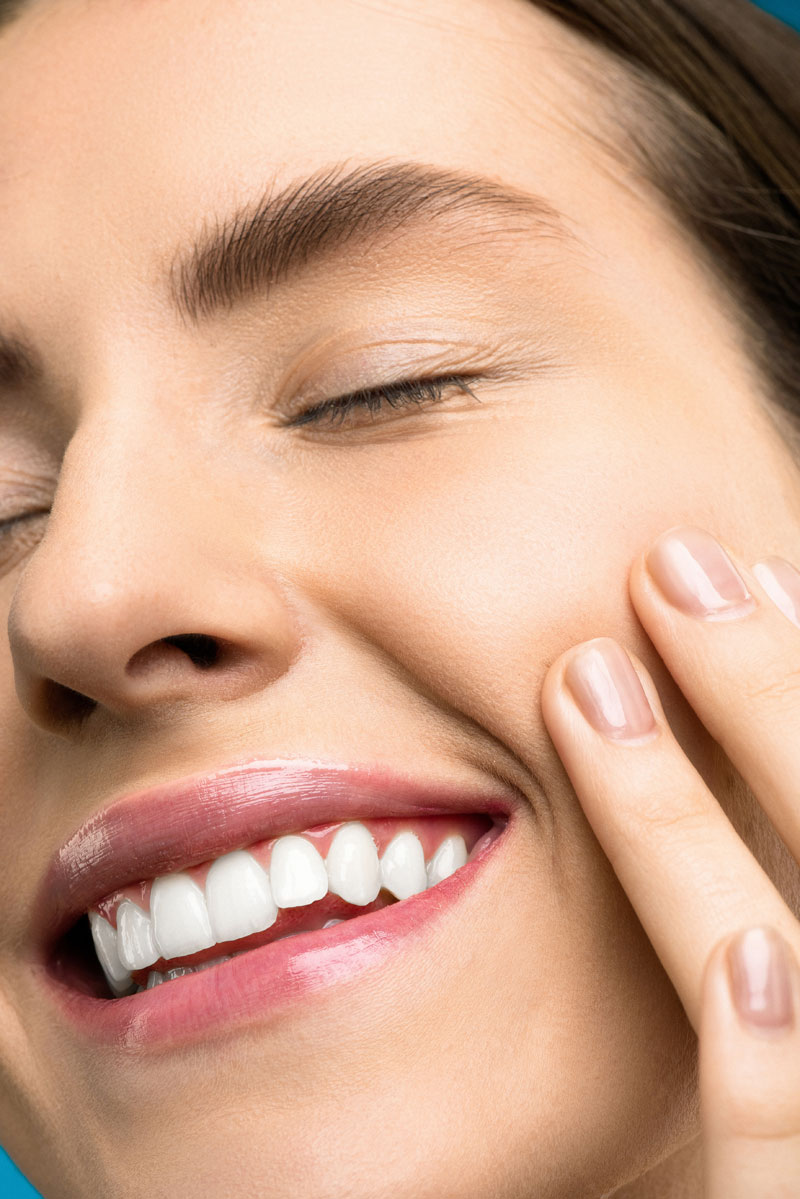 After the clinical examination of the patient, confirming that whitening can be done, all the methods of teeth whitening are examined in order to offer a bright and youthful smile without causing damage to the teeth. The result is the disappearance of pigments and discoloration of the teeth caused by coffee, tea, cigarettes, etc.
The whitening methods that are available are:
whitening toothpaste at home for 7-10 days, depending on the desired result
immediate whitening at the doctor's office in 1-2 appointments using a laser or led lamp
combination of treatments at the doctor's office and at self-whitening for 2-3 days
– Faces (bonding techniques)
Faces are called a thin layer of porcelain (made in the laboratory) or resin (made in the doctor's office) that is placed only on the mouth (front) surface of the teeth.
The placement of faces is done either for purely aesthetic reasons to have a bright smile with even-straight teeth, or for functional reasons where we want to protect the teeth from corrosion, abrasion and fracture.
= When are the faces used?
Faces are preferred in cases of very severe discoloration (due to drugs such as tetracyclines), cases of teeth that are crooked, asymmetrical, with a strange morphology or gaps between them and in teeth that are worn or eroded.
The whole procedure requires minimal to no grinding of the front surfaces of the teeth where the faces will be glued with a special glue. The goal is to change the color and shape of the teeth.
– Dental strass placement
If you want a more special smile, there is the possibility of placing a small, discreet piece of jewelry on one of the teeth,
which
can be easily placed and removed whenever you want
.
All services provided in the dental unit.
Emphasis is put on sterilization and cleanliness.
Minimal invasive dentistry.
Digital radiological examination with minimum radiation.
Modern ways to minimize pain.
First visit is free of charge.
Free examination and preventive treatment for people with disabilities.
Affordable prices – flexibility in payment methods.